Clinical study proves benefits of joint supplements on canine mobility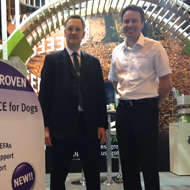 Royal Veterinary College study found "significant" improvements over six week period

The Royal Veterinary College says it has found the first ever clinical proof of the effect of joint supplements on canine mobility.
The college carried out a two and a half year long clinical study.
Monitors originally developed to track wild cat movements in Africa were instead applied to measure the activity of dogs over a six week period.
One set of dogs were given the YUMOVE supplement, and another group a placebo. The group that were given YUMOVE showed statistically significant improvements , the college said.
"This study represents a major step forward in canine mobility", said Dr Matthew Pead, lead investigator at the RVC.
"It took nine months of careful planning to ensure a robust methodology was developed to provide clear clinical results that veterinary professionals can rely on, and give confidence when recommending joint supplements to dog owners.
"Furthermore, the huge volume of objective activity data will enhance our understanding of the effect of canine osteoarthritis on mobility and activity in the dog's day to day activities."
The clinical study was sponsored by Lintbells, the UK based manufacturer of YUMOVE.
"We are very excited by the results of the clinical study" said Lintbells co-founder Dr John Howie.
"From the extensive feedback from owners and vets alike, we already knew the product worked.
"But we wanted to establish independent, rigorous clinical evidence for YUMOVE so that veterinary professionals could recommend the product with confidence, and dog owners knew what to expect from a clinically proven joint supplement in real-life situations.
"There is a great deal of uncertainty and confusion when it comes to joint supplements. This clinical study now provides clarity for clinician and owner alike.
"With an estimated 1.2 million dogs suffering from joint and mobility issues and only approximately 10 to 15 per cent receiving a nutritional supplement, Lintbells believes that providing an affordable, proven product that owners can rely on will uncap the significant market opportunity for veterinary professionals."