Wales to ban third party puppy and kitten sales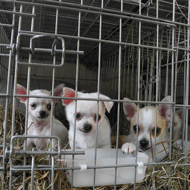 The Welsh Government has said it will ban third party sales of puppies and kittens, after a consultation showed overwhelming public support.

A consultation in February received nearly 500 responses, most of whom called for greater action to improve the welfare of cats and dogs at all breeding premises.

Concerns were also raised about online sales, impulse buying, breeder accountability and illegal puppy imports.

A consultation will now be held on plans to implement a ban. Environment minister Lesley Griffiths said she will also revisit the current breeding regulations to improve welfare conditions.