Atypical monsoon precipitates crisis for animal rescue hospital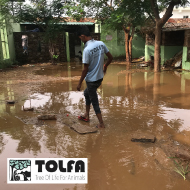 Award-winning VN appeals for help
While in an article in the
Business Standard
, the Indian Meteorological Department is heralding a welcome end to the threat of drought provided by 792mm monsoon rainfall since June – three per cent more than usual – staff and patients at the Tree Of Life For Animals (TOLFA) animal hospital in Rajasthan are facing a crisis and temporary closure after being hit by the heaviest rainfall in six decades.
A statement posted on the TOLFA website, declares: 'It is with sadness we must announce the temporary closure of our Rescue Service. Owing to atypical monsoon flooding and the usual high number of rescues at this time of year we are at full capacity. Our Rescue Team will only be able to provide street treatments until further notice.'
In an
on-site video
,TOLFA founder, VN Rachel Wright, explains the situation and is appealing for donations to help restore the animal hospital to full service again as soon as possible. "The torrential rain has caused misery for the animals, as well as the local people," she says, "but it has not damaged our resolve to keep helping as many animals as we can. I am so grateful to our dedicated staff, who are working overtime to cope with the extra complications this situation has presented."
TOLFA is a busy animal hospital and rescue centre in Rajasthan, Northern India. It works to eradicate rabies, rescue and treat injured animals, sterilise street dogs, and undertakes many more welfare projects. It is an integral part of the community, and has received international recognition for its work. It has helped more than 170,000 sick and injured animals, spayed/neutered more than 22,000 dogs, and vaccinated more than 28,000 dogs against rabies.
Rachel received the International Award for Animal Welfare from the Royal College of Veterinary Surgeons in July 2018 and was also the recipient of the CEVA Vet Nurse of the Year Award earlier this year.
To help or to make a donation, visit
www.tolfa.org.uk
or e-mail enquiries@tolfa.org.uk