Young vet speaks out about lack of black and minority ethnic role models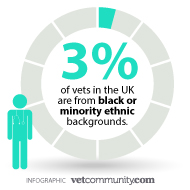 David Charles reveals new ideas to build a diverse profession

A young veterinary surgeon has spoken out about the barriers faced by current and potential black or minority ethnic (BME) veterinary students both in the UK and the USA.

Twenty-six-year-old David Charles from Oakwood Vets in Norfolk is somewhat of a rarity in the profession, with figures showing just three per cent of vets in the UK are from BME backgrounds.

David was president of the Association of Veterinary Students (AVS) 2018-19 and is now senior vice president of the AVS. He believes that studying to become a veterinary surgeon in such an environment could be challenging.

"First of all, there is the lack of BME role models in the UK for vets, vet students and aspiring vet students," he explained. "It's very common to go through five years of training without being taught by, or seeing practice with, any BME vets. 

"Arguably the most high-profile vets on TV are Noel Fitzpatrick and the Yorkshire Vet, which aren't very representative to aspiring vet students."

David continued: "For students considering our profession, it can seem like a career option which isn't open to them. As they say, 'you can't be what you can't see' and we really need to work on developing a pipeline of BME students who believe they can be part of our fantastic profession."

David recently returned from New Orleans where he spoke at the inaugural Conference of the National Association of Black Veterinarians (NABV). He is now eager to become one of several veterinary role models for aspiring students from 'unconventional backgrounds'.

David said: "Black vets account for less than three per cent of the industry in the USA, making it the whitest profession in the country. The NABV is committed to changing that and is actively working for a more diverse and inclusive profession for current and future black veterinarians. 

"They are working hard to create a strong network and community of black vets in the USA and are working with allies such as the AVMA and several heads of vet schools to develop a pipeline of young black vet students, something which is also lacking here in the UK."
He added: "One of the key points which really resonated with me was that being a black vet shouldn't be such a big thing, you're just a vet who happens to be black. Surely it's much more important to be a good vet and, therefore, a good role model to future students."