Several dogs die in Norway after mystery illness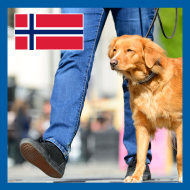 Dogs displayed symptoms of severe hemorrhagic gastroenteritis
Several dogs in Norway have died in recent days after suffering a serious illness, of which the cause is not yet known.

According to the Norwegian Veterinary Institute (NVI), more than 20 dogs with similar symptoms have died so far in various parts of the country. It is not yet confirmed, however, if the cases are caused by the same disease. The same symptoms have also been reported in more than 60 dogs.

The first cases of dogs suddenly suffering from vomiting and bloody diarrhoea were reported in Oslo. Further cases have since been reported in several counties, including Nordland, Hordaland and Romsdal.

The NVI says that it is working closely with the Norwegian Food Safety Authority and the Norwegian University of Life Sciences to gather information on the origin and potential cause of the illness.

Speaking to The Guardian, Joran Jarp from the NVI said it was "naturally alarming to have healthy Norwegian dogs dying so quickly. This is a very special situation; I haven't been in involved in anything like it before.

"We have seen that many different types of feed have been used in the dogs that are autopsied, and have no reason to believe that it is the cause of one specific feed. We are investigating possible viral, bacterial, fungal and parasitic causes."

The NRI has received 10 dogs for autopsy, which have all displayed the same pathological symptoms of severe hemorrhagic gastroenteritis. From eight of these dogs, scientists have cultured the same bacteria - Clostridium perfringens - in the gut, together with another bacteria, Providencia alcalifaciens.

The team has not yet concluded if this is the cause of the disease and they await analysis for the presence of viruses and some toxins. So far, they have ruled out rat poison, Salmonella or Campylobacter.

It has also not yet been confirmed if the disease transmits between dogs. However, the Norwegian Food Safety Authority has advised dog owners to restrict close contact with other dogs and not let the dog greet other dogs when out walking.

Owners are also being advised to seek veterinary help should they notice bloody diarrhoea, vomiting and rapid deterioration in the general condition of their dog.