Top stories of 2019: Countrywide calls for cat microchipping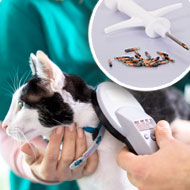 Discussions over compulsory microchipping lead to progress

In 2019, the headlines that dominated the news covered issues such as pet welfare, responsible buying, improved regulation of breeding and the psychological impact of companion animals on humans.
One of the top stories in the later half of the year revolved around microchipping cats. Charities, pet owners and the government all joined in the discussion over the benefits and drawbacks of making this practice mandatory for cats as it is for dogs.
On 23 September 2019, UK cat charity Cats Protection launched a petition calling for microchipping to be made compulsory for pet cats. More than 23,000 people signed the petition and it received enormous support online.
Head of advocacy and relations at Cats Protection Jacqui Cuff said: "Microchipping gives lost cats the best possible chance of being reunited with their owner. And in the sad event that a cat is injured or killed on the roads, the details on a microchip can ensure their owner is quickly informed.
"Microchipping is an essential part of responsible pet ownership and is already compulsory for dogs. It's now time that cats receive the same level of protection by ensuring that all pet cats are microchipped."
Further developments to this story continued throughout the year, and on 12 October 2019 the environment secretary, Theresa Villiers, launched a call for evidence on cat microchipping, in order to gauge the impact that it would have on cats, owners, and rescue centres, if made mandatory.
The call asked for evidence on the various consequences of introducing compulsory microchipping as a rule. Including how microchipping all cats would apply to feral or stray cats, how the government could make and enforce the rule and experiences with compliant microchip databases.
A spokesperson from the National Veterinary Data Service, a government approved microchip database commented: "We welcome compulsory microchipping of cats and would recommend that all owners have their pets microchipped. We also stress the importance of maintaining updated contact details with your microchip database."
On 2 January 2020, Defra reaffirmed its goal of introducing compulsory microchipping for cats, and – along with animal welfare charities such as Dogs Trust and Cats Protection – urged pet owners to microchip their dogs and cats this New Year.
Animal welfare minister Zac Goldsmith said: "Microchips are often the only hope of reuniting lost pets with their owners so it truly is the best New Year's resolution you could make to protect your furry friend in 2020."
EcoTech ID, a UK-based microchip provider said: "It is good practice to have all pets microchipped, regardless of the species. Compulsory microchipping of cats would result in more successful pet reunifications."
The call for evidence finally closed on Saturday 4 January 2020. Defra has stated that it will publish a consultation outlining any proposals on how to achieve this goal moving forward, and we will continue to provide updates on the story as it progresses in 2020.