New BVA resources to help vets report illegal pet importation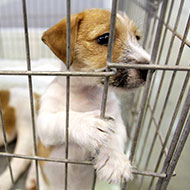 Guidance documents outline what to do with suspected cases

In an effort to combat the growing illegal pet trade, the BVA has released new resources designed to help veterinary surgeons in the UK report suspected cases of illegal pet importation.
The new suite of resources has been created in response to the BVA's recent Voice of the Veterinary Profession surveys, which found that many veterinary surgeons are unsure about how to report suspected cases of illegal importation, or have had difficulties in contacting the relevant authorities with past concerns.
Following a positive response to BVA's compliance flowchart and guidance document released last year for veterinary surgeons in England, this new suite of downloadable resources clearly summarise what should be done if a veterinary surgeon wishes to report an illegally imported pet, including whom to contact, where to find the relevant contact details, what action to expect and how to navigate client confidentiality and data protection.
Veterinary surgeons in Scotland will have access to an online reporting form, which has been developed by Advice Direct Scotland (ADS) and Trading Standards Scotland (TSS).
BVA president Daniella Dos Santos said: "Veterinary teams can often be the first to suspect that an animal may have been illegally imported when an owner takes their pet for its first check-up. But our surveys have identified a compelling need for clearly defined routes and mechanisms for vets to more easily report suspected cases of illegal importation.
"Our flowchart and supporting guidance for vets in England last year were very well received by the profession and we are happy to be expanding them to empower vets across the UK to report any such cases.
"I'd encourage colleagues to use the resources if they wish to report any suspicions to relevant authorities and thereby help tackle the scourge of illegal importation."

The new resources have been developed in collaboration with local authorities and organisations from across the UK. Please click below to access the relevant information pages for each country.