RVC launches first ever joint veterinary science degree with Aberystwyth University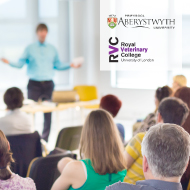 Follows opening of Wales' first school of veterinary science

The Royal Veterinary College (RVC) and Aberystwyth University have announced the launch of the first ever joint Bachelor of Veterinary Science degree (BVSc), following the official opening of the Aberystwyth School of Veterinary Science, taking place today (Friday 28 February).
According to the RVC, the new degree "is designed to meet the growing needs for competent practitioners to work in rural mixed practices," and will welcome the first cohort of students in September 2021.
The course takes five years to complete, with students spending two years at Aberystwyth University followed by a further three years at the RVC's Hawkshead Campus in Hertfordshire.
Principal of the RVC Professor Stuart Reid said: "We are delighted to be partnering with our colleagues Aberystwyth in providing an offering that will benefit students at both institutions. The RVC's commitment to the profession in all its manifestations and particularly the rural environment will be bolstered by this important collaboration."
Commenting on the opening of the new school, vice-chancellor of Aberystwyth University Professor Elizabeth Treasure said: "Agriculture and its related industries play such an important part in the Welsh economy and it is incumbent on us as universities to provide the people and the skills that will contribute to ensuring they thrive for years to come.
"The new school of veterinary science adds a vitally important new piece to the jigsaw, one that will build resilience in the rural economy through education and research at a time of great potential change and challenges."
The Aberystwyth School of Veterinary Science is the first of its kind in Wales and will form part of the Institute of Biological, Environmental and Rural Sciences. Aberystwyth University has stated that the Veterinary Education Centre being developed on the Penglais campus, will also benefit from this new facility.