BEVA gives vets access to free membership for three months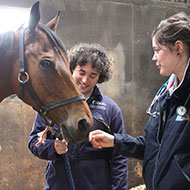 Offers resources to help those within the profession

The British Equine Veterinary Association (BEVA) has announced that it is cutting membership renewal charges for the next three months in order to support all veterinary professionals during the COVID-19 pandemic.
Memberships for all existing BEVA members will be extended until 30 June 2020. Veterinary professionals who are not members of BEVA will also be able to sign up for a free membership until 30 June 2020.
BEVA president Tim Mair said: "In this extraordinary time of global crisis our profession, as with many industries, is under immense pressure. By offering free membership we are giving equine vets easy access to a wealth of supportive resources and online CPD."
To sign up please visit the BEVA website.
Image (c) BEVA.